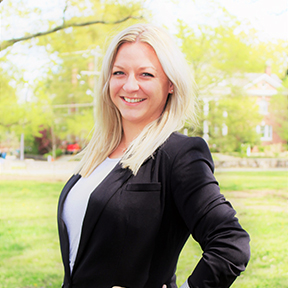 "Each day and every client deserves the very best I have to offer!" 
For most people, buying or selling a home is the largest transaction you will ever make, and it's understandable that you could stress over it, but it doesn't have to be that way. This is an exciting time in your life, and Alex will keep your experience as so. She is passionate about working together to find the perfect home for your needs, whether you're a family who is looking to upsize and alleviate those early morning tantrums because there aren't enough bathrooms for the tweens, a young professional looking for a condominium with as many amenities possible near nightlife, or a first-time home buyer who isn't quite sure what their needs are. No matter your situation or desire, Alex is here to work for you, to find the best home that meets your individual needs, wants, and budget.
Finding the right REALTOR®/Broker for you can be more than a simple google search. Alex is someone you can make a genuine connection with, who will have your needs taken care of, and your interests protected. A house isn't just a house. It's a home — your home. Alex has been part of Seagroves Realty since 1999.
Alex has a professional background in healthcare business management, client relations, sales, merchandising, operations, and general management. She prides herself on her strong work ethic and genuinely believes that each day and every client, deserves the very best she has to offer and works hard to ensure her reputation speaks the same. Married to a small business owner, it's important to both her and her husband, to know when you hear the last name "Ammons", you know it is someone you can trust and stands by their work.
Hailing from the southeastern United States, Alex considers herself fortunate to have spent many of those childhood years right here in Durham. Through the years living in different cities and states while receiving her education, and then building her career in business management, she found her heart calling her home to the Triangle.
Alex looks to her Grandmother, a now-retired broker/agent, and admires her dedication and passion for her clients and profession. In her younger years, she would accompany her to showings and open houses, often eager to give tours and photograph homes herself. She has a flame of appreciation for architecture, which was ignited by her grandfather, an architect himself. This background is what shaped Alex's genuine interest in Real Estate & Interior Design. Alex resides in Northern Durham with her Husband (Durham Native) and son, until their new forever home is finished in Rougemont, Orange County.