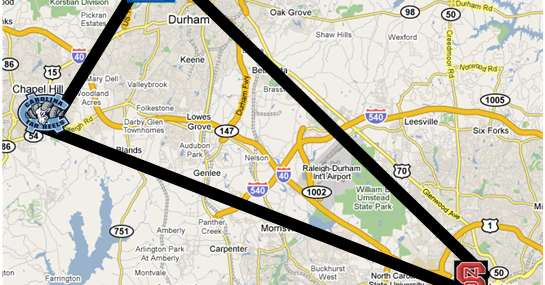 Triangle Real Estate
The Triangle is called the Triangle because it is created by the lines from Raleigh to Durham to Chapel Hill and back again. Research Triangle Park (and RDU airport) sit in the center of it all.
What the term Triangle, though, no longer accounts for is the incredible growth of the surrounding cities in the region. Here's a quick overview of the areas that Seagroves Realty serves in addition to the communities of Durham, Chapel Hill, and Hillsborough that we have highlighted for you.
If you are interested in a sale or purchase in these areas, Seagroves Realty is here to help.
Apex
Apex is a beautifully authentic small town. Its hometown feel, vibrance, and uniqueness is a pull for many who are looking for an abundance of community, festivals, events, and great schools.
Wake Forest
Once a rural area, Wake Forest is now a bustling town that attracts people from all over the country looking to relocate to the region. The town is home to trending restaurants, breweries, boutique shops, stunning homes, and a premier public school system.
Cary
Simply charming and highly desirable. Cary has a charming downtown, excellent schools, an artsy vibe, and plenty of parklands. Cary is conveniently close to the Research Triangle Park.